One of the nice additions to WestlawNext is the ability to save your research in folders.  WestlawNext has recently added the ability to share those research folders with other WestlawNext users.  Research is often a collaborative process and folder sharing will make collaboration much easier.  This will be a big benefit to attorneys and students and I'm glad to see WestlawNext has incorporated it. 
To share a folder, simply go to options when you're on the Folders screen and select "share."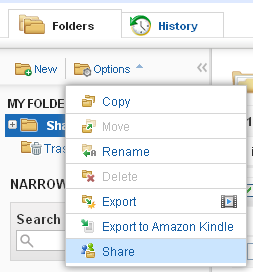 From there you can add the contact information of those you want to share with.  As a BYU law student you will have access to the names of WestlawNext users in the BYU Law community.  After selecting names, your folder will be shared with those you have designated and they will be able to review your folder and, if you've given them the rights, contribute as well.