Recently there were a few changes to the library catalog that we wanted you to be aware of.  The library catalog is a great place to find print as well as electronic resources that are available to you.  We are continually adding great material that isn't available to you on Westlaw or Lexis that can help with your classes and  with research papers.
What hasn't changed about the catalog is that the search box is available on the library's homepage.

Once you run a search is where you'll begin to see some of the changes.  I've run a simple search here for civil procedure.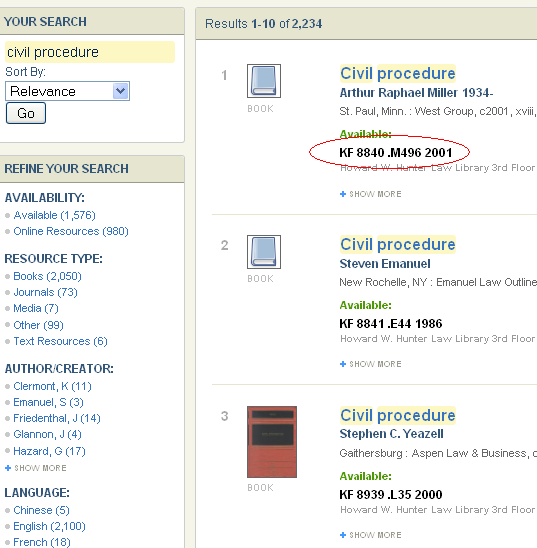 While this looks similar to what you've seen during the past year, it looks a lot cleaner.  Also, in the prior version the call numbers didn't show up right away and you had to click on another link to find them.  Now call numbers are displayed prominently in the hit list.  If you click on the call number you will be taken to a fuller version of the record which will tell you if the book is checked out, how many volumes are available, when the book was last updated, etc.  You'll also notice on the left that you can narrow your search in various ways.
Additionally, you can search in separate collections within the law library.  For example, if you're looking for study guides on civil procedure, simply use the pull-down menu to select study guides.  If you have any questions about the catalog, please come see us at the reference desk or contact us through our null service where you can chat with us or send us an email.