Legal researchers often ask me how to find out what a specific statutory section said on a specific date. There are a few ways to approach the problem. Westlaw's effective date tool is one of them. When you go into the United States Code Annotated database (as well as statutes databases of some of the larger states), you will see the text "Search sections effective on" and a date search box below the main search box.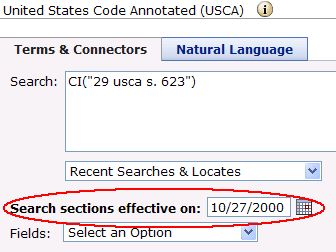 Inputting the date you want and searching in the citation field for your section will allow you to see what 29 USCA sec. 623 looked like 10 years ago.
At present this tool does not work on anything prior to January 1, 1996.