Happy Constitution Day!  Constitution Day often takes on a different meaning for those that begin studying the law on a regular basis.  As might be expected, scholars are writing about the Constitution on a regular basis and the Law Library actively collects books on the subject.  One of the ways to see some of the new books we've recently received is to peruse the book covers that appear through the glass in the Reserve Library.  Each of these books can be found through our library catalog.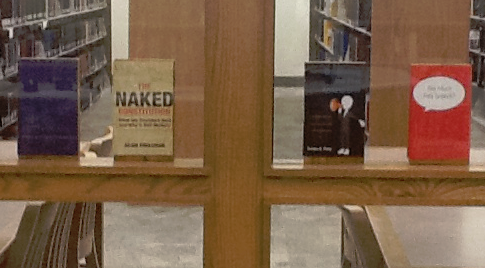 One of the new books that caught my eye on Constitution Day is called The Naked Constitution.  If you're interested in this book, you can also use it to find other books about the U.S. Constitution through the library catalog.  The best way to do this is to use the subject terms associated with the books in the library catalog.  So, for example, you could run a search for U.S. Constitution, but you'd probably get back thousands of results.  If you look up the book you know about, however, and look at the library catalog record, you'll notice that there are a number of subject terms associated with it.  One of them is "Constitutional Law –  United States."

If you click on that subject term, you'll cut your search results in half and get books that are much more relevant.  If you're looking for recent books on your subject, you could then sort your results list by date.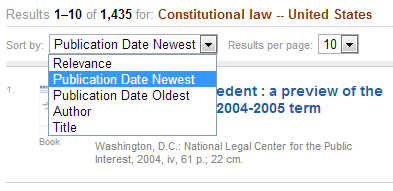 This will give you a number of recent books published on the U.S. Constitution, such as The Roberts Court: The Struggle for the Constitution, The Failed Promise of Originalism, and The Writing and Ratification of the U.S. Constitution: Practical Virtue in Action.