From grade school we learn about bills and how they become law.  Some bills die, some are amended, some become law.  No matter what happens, bills are an essential part of the legislative process and researchers often want to get their hands on bills to see what they looked like.  It's pretty easy to find new bills on Thomas, but older bills have always been tough to come by.  That's about to change.  The Law Library has recently purchased a collection of federal bills from 1789-2013.  This collection is still a work-in-progress, but will be completed by the end of this year.  At completion the database will contain all bills that have been introduced in Congress.  That means researchers will be able to find bills that were passed into law, as well as those that weren't.  This will be a great resource for legislative research.
This bills collection is available in Proquest Congressional.  Searching Proquest Congressional will return bills from this collection, or researchers may want to use the advanced search to limit your search just to bills.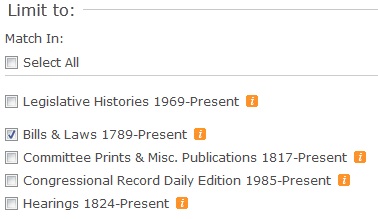 Bills can also be searched by bill number.

The BYU Law Library offers many resources such as this that can make legislative history research much easier and more convenient.  See our Legislative History-Federal subject guide for more details.