If you've looked for something recently in the Reserve Room (the enclosed room across from the Reference Desk), you've likely noticed things have changed a bit.  In an attempt to provide better access to major legal treatises and other useful resources, the law library has re-examined the reserve collection and made some changes we hope will benefit you. 
Prior to the changes, we had several major treatises in Reserve and a number of them on the 3rd floor.  Through this project, we tried to identify all major legal treatises and bring them together in Reserve.  This will allow users to more easily browse our treatise collection, while also ensuring that these treatises are available when you need them.  Legal treatises are extremely useful legal resources that you should become familiar with in law school.  Many practicing attorneys use legal treatises and (believe it or not) many law firms still have these resources in print.
The shifting we've done in reserve to accomodate the new additions hasn't changed the layout too much.  The Benson Collection is still on the north range.  The next range to the south has the Biblical Law Collection on the north face and the Utah and Self-help Law Collections on the south face.  The rest of the ranges have legal treatises, Restatements, and Study Guides.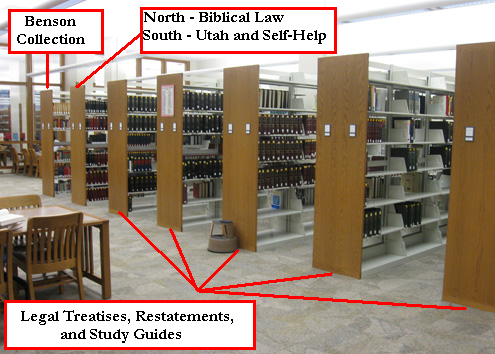 Here's a view from the entrance to the Reserve Room.