Westlaw finally released a legal news product last December called Westlaw Today. You can find Westlaw Today using the dropdown menu next to the Westlaw logo in the upper-left of the screen (where you access Practical Law).
The delay was a bit of a head-scratcher because Thomson Reuters, the parent company of global news powerhouse Reuters, owns Westlaw. Westlaw Today relies heavily on Reuters articles as well as Westlaw columnists and attorney-written analysis written by attorneys. You can even submit an article or article proposal for consideration (2,000-2,500 words on a significant legal event or emerging trend).
Westlaw Today was designed to compete with Law360, Lexis's flagship legal news product. As with Law360, you can subscribe to an email newsletter with the top stories for practice areas like intellectual property law or corporate governance. If you subscribe to more than one practice area, you can choose to have all of the practice areas combined into one email or delivered separately. What I don't like about Westlaw Today is it doesn't organize the stories under separate headings like Law360 does (e.g. "Top News," "Policy & Regulation," "Litigation").
But what I really like about Westlaw Today is its daily news email, "The Daily Docket." The Daily Docket is different from other legal news products I've seen. It combines the biggest legal news stories with law firm, law school, and industry news in an easy, breezy format that is easy to skim because it uses large headlines. All law students should subscribe to at least one general legal news service and one practice-area news service relevant to an area they are interested in. "The Daily Docket" is the general legal news email law students should subscribe to. Here's why:
The Daily Docket features the largest news story of the day first, often a major legal case. It breaks down in a few sentences what the case is about and what the arguments are. For example, today the featured headline is "SCOTUS takes on NCAA student-athlete compensation fight."
Organization. The Daily Docket is divided into obvious sections that are easy to skim for items of interest.
The Coming Up Today section features hearings and other events scheduled for today, helping you be prepared and current.
Fun features like a "number of the day" and a quote pulled from a recent court opinion, interview, or hearing that put the law in context.
Pictures and color! The Daily Docket is much more visually interesting than most legal news emails.
Why should law students subscribe to legal news, with everything else on their plate? First, interviewing and networking–keeping up with current legal events gives you a lot more to say and makes you a much more interesting and appealing job candidate. Second, as Dean Smith likes to say, law is a leadership degree, and you will be a more effective leader when you can see the big picture. Third and finally, it's fun!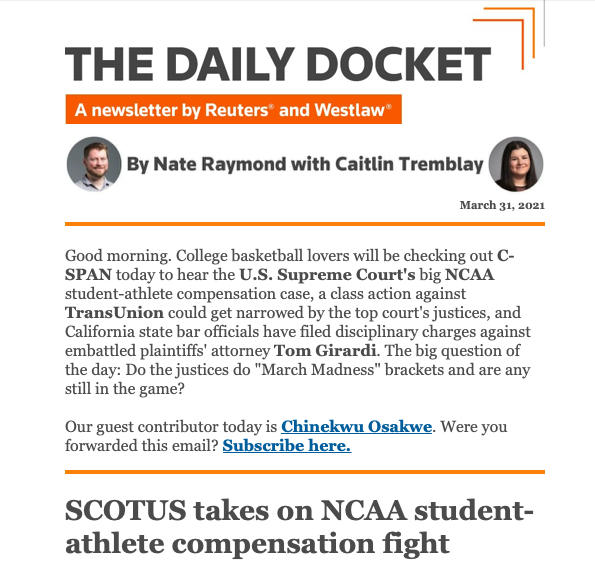 To subscribe, go to Westlaw Today, then locate the "Subscribe to receive daily email notifications" button on the right and select "Include The Daily Docket subscription" at the bottom of the list.