Welcome back!  We hope you enjoyed your time off.  I certainly did–enough so that I was nonexistent on this blog over the break.  As you ease back into school, you may have noticed that our webpage looks slightly different–we have a new search bar.

Searching here will search our catalog and direct you to all of our collections of books and ebooks.  If you want a little more precision you can drop down the box on the left hand side and get several options that will refine your search.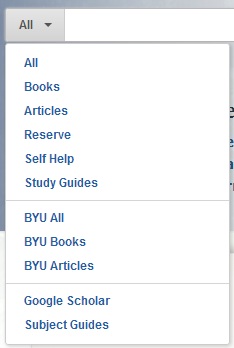 Searching for Articles will run a HeinOnline search for you and Subject Guides will search through our own subject guides collections.  You can also search BYU Books or even Google Scholar.  We hope you'll find the new search bar useful and intuitive.