HeinOnline is one of the most popular databases we offer–and rightfully so.  Its vast collection of pdf legal materials creates an incredible tool for researchers (especially those of you doing source pulls).  While most of our users pull documents from HeinOnline regularly, it is often underutilized as a search tool.  While the searching doesn't mirror Westlaw or Lexis exactly, HeinOnline has made several search improvements over the years.  Those improvements, coupled with the breadth of information (including historical law journals not found in Westlaw/Lexis) make it a place all researchers should search when doing a research paper.
When you go into a HeinOnline library, like the Law Journal library, you will see the following search box.  However, unless you know the HeinOnline search syntax (which is different than Westlaw/Lexis), searching here doesn't always help.

I suggest going to the "Field Search," as it provides more user friendly search options.

As you can see, here you can select connectors such as "AND," "Within 10," etc.

Running this search will provide you with a number of results ranked by relevance.  On the left-hand side of the results page, HeinOnline offers ways to narrow your search.  The date feature is nice because it allows you to narrow articles by decade.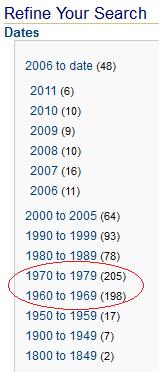 As the example here shows, many of the law review and journal articles written on this topic are from the 60s and 70s.  If we only searched Westlaw and Lexis we would not have found the majority of these articles. So, don't forget to search HeinOnline when you're working on a research paper.
For more advanced search tips, check out HeinOnline's HeinOnline Searching Quick Reference Guide,  Advanced Search Syntax Guide and its Searching 101 Guide.