In an effort to give you access to BYU Law Library resources at all times from your computer, we are pleased to present current students and faculty with the new Law Library Toolbar (download here).

With this new tool you can search for cases, law review articles, books, etc. straight from your internet browser. You also have easy access to law library and law school resources from your browser. Let's take a look.
Suppose you need Bush v. Gore, 531 U.S. 98 from Westlaw. Just type the citation in the toolbar, select "Westlaw (ciation)" under the magnifying glass, and you're taken straight to the case. You can do the same for Lexis and HeinOnline.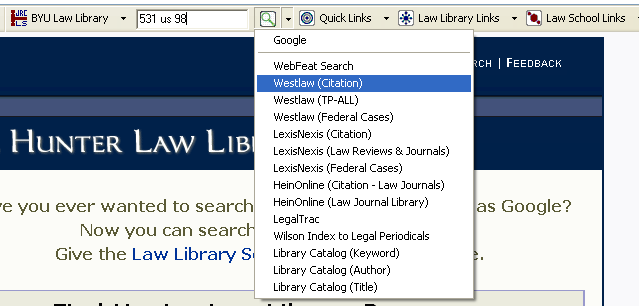 If you need to find articles on LegalTrac dealing with "complete preemption" just type in "complete preemption" in the toolbar and click on LegalTrac. Your search will be run in LegalTrac and you'll be taken straight to the results page. Similar searches can be run in Wilson's Index to Legal Periodicals, Lexis, Westlaw, HeinOnline, the Library Catalog, and Google.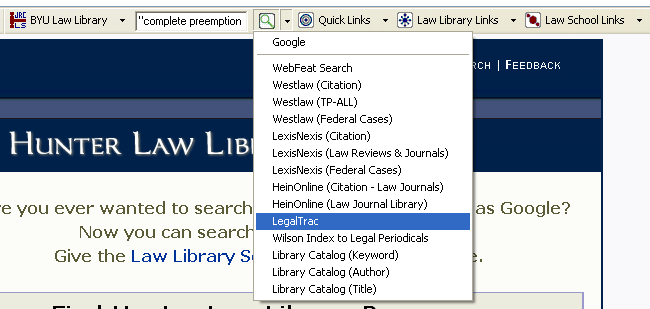 In addition to all the searches available, the toolbar also offers links to other law library resources, as well as to important law library and law school links.


As mentioned above, Google is searchable from the Law Library toolbar. However, you may decide to keep your Google toolbar and install this one as well. I have both on my browser.
We're very excited about this latest development and hope it will provide you with easy access to the many resources the law library provides for you.