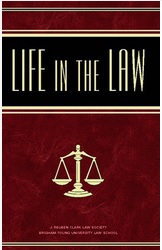 Life in the Law, a BYU Law School publication, has recently been digitized and made available electronically by the BYU Law Library.  The three volumes of Life in the Law "contain prized collections of exceptional essays by thoughtful men and women who have examined things that matter most in both their professional and private lives. All of them address important questions about the experience of being a Christian attorney."
Edited by Jane Wise, the law library's Galen Fletcher, and Scott Cameron, Life in the Law has been treasured by many who are seeking to live religious lives while practicing law.  These volumes contain many wonderful essays including, "Answering God's Interrogatories" by Marlin K. Jensen, "With Charity for All" by Matthew S. Holland, and "Lock In: Loved Ones and Lawyers" by Robert M. Daines to name just a few.  The table of contents for each volume as well as pdf versions of each essay can be found at the links below:
Volume 1 – Answering God's Interrogatories
Volume 2 – Service & Integrity
Volume 3 – Religious Conviction
While still available for sale in print, this digital collection provides free access to anyone interested in a religious perspective on life in the law.