If you've searched our library catalog lately, you've noticed that things look quite different. We have recently implemented a Law Library version of the Lee Library's ScholarSearch. We hope it will help you find more of what you're looking for. To help you get used to the new system I wanted to run through some of the new features.
You'll notice that the search box on our home page looks similar to how it did before the change. Now, however, when you use the search box, your search will be run in our version of ScholarSearch. The old catalog is still available through the "Advanced Catalog Search" link.

Upon searching the new catalog, your results are ranked by relevance instead of date. If you'd like, you can sort by date as well. One of the biggest additions is the ability to narrow your search by facets. The facets appear on the left-side of your search results. So, instead of going through all 149 results for the search "free speech," you could just pull up the 19 that are online resources or the 89 where the subject is "freedom of speech." Facets allow you to manipulate your result set and tailor it more to meet your needs.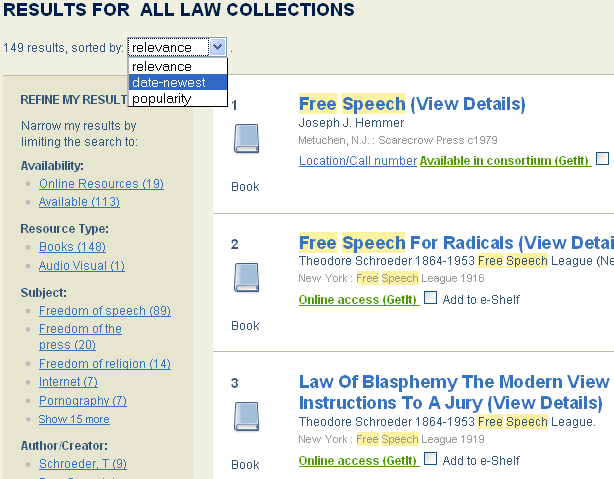 Another thing I really like can be done by selecting "Advanced Search" on the law library web page.

Once you're in "Advanced Search" you can run your search in a specific Law Library collection, for example, the study guides collection. That way, if you are specifically looking for con law study guides, you can search for "constitutional law" in the study guides collection and you'll get 22 relevant hits instead of thousands of irrelevant ones. Here is where you can also search through all of BYU's collections, which includes the main library.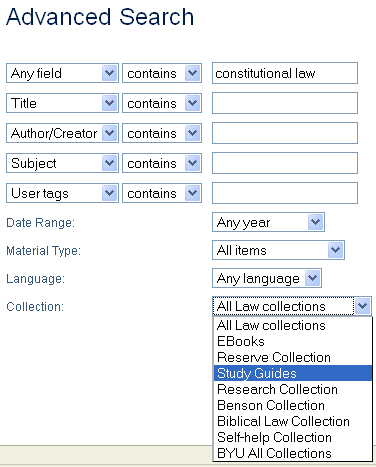 We hope that our version of ScholarSearch will be an asset to your research. If you experience any problems or have any questions or concerns, please contact me (neverss@law.byu.edu) or any of the law librarians.