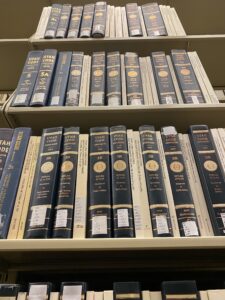 The BYU Law Library keeps previous versions of the Utah Code, so we've built up quite an extensive collection of historical Utah Codes. We have from 1855 to the present. We also have all the Utah Session Laws (all Utah laws compiled in chronological order.)
Kept in the basement floor of the BYU Law Library, the historical Utah Codes previously could be browsed by law students, attorneys, and the public alike. However, because of COVID-19, the BYU Law Library is not accessible to those not currently attending BYU Law. But our historical Utah Code collection can still help you in your research, even if you can't come browse them physically in our library.
Send a request to reference@law.byu.edu. It is ideal to know the exact section you are interested in and what year you would like. Sometimes sections are renumbered so the most details you can give us about the section and what it should be about, the better. A reference librarian will do their best to find your request in our historical Utah Code collection and scan the request and email it to you. We have to be copyright compliant (so we can't just scan the entire volume for you), and it could take up to two business days.