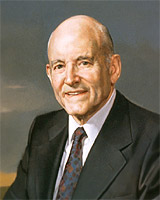 Today, Nov. 14th, we celebrate the 100th Anniversary of the birth of President Howard W. Hunter, for whom the Law Library is named. The Law Library is grateful to carry the name of such an inspiring leader and successful attorney.
This year also marks the 10th Anniversary of the dedication of the Howard W. Hunter Law Library. The old library was expanded, remodeled and then dedicated in honor of President Hunter in 1997. While I personally never saw the old library, I have been told that the transformation was a great blessing to students and faculty. In a BYU Magazine article about the dedication (see here), it was reported that President James E. Faust remarked, "A great library is a fitting way to memorialize President Howard William Hunter, who had a fitting mind, an exceptional aptitude, and a great love for the law." It was also reported that President Thomas S. Monson stated, "All those who use this facility should not only remember him, but also try to emulate the virtues he possessed."
In honor of President Hunter's birthday and the dedication of the library, the Law Library will host a reception today from 2-4 in the Fourth Floor Reading Room (472 JRCB). From 2-2:30 we will here remarks from David Hunter, a grandson of President Hunter and a graduate of our Law School, Dean Kevin Worthen, and Constance Lundberg, former Director of the Law Library. Come help us celebrate these wonderful events!
For a more detailed discussion of President Hunter, his life and relationship with the law and the Law School, as well as the redidication of the Law Library see Lovisa Lyman's article, null in the Spring 1997 edition of the Clark Memorandum.