As you research this summer, one of the things you may need to do is find trial court pleadings – a complaint, an answer, a motion.  Attorneys often like to look for a similar case to theirs and then look at the court documents in that case to use as a template to help craft their pleadings.  Because of this many law students become more familiar with PACER over the summer.  PACER is the federal government's database for court dockets.  Most firms have their own PACER passwords and pay $0.10 a page to download court documents.
Now there's a new way to get federal court documents that could save your firm some money this summer.  Bloomberg Law, who is giving students free access this summer for any job or externship, provides federal court documents free to students.  Once logged into Bloomberg Law, students will see that the "Litigation & Dockets" tab at the top of the page leads you to "Search Dockets."

You can then search by case name or docket number and find a listing of all court documents in that case.  The numbers in blue represent documents that Bloomberg Law already has and can quickly be downloaded.  The numbers in green represent documents that haven't been acquired by Bloomberg Law, but can be acquired fairly quickly.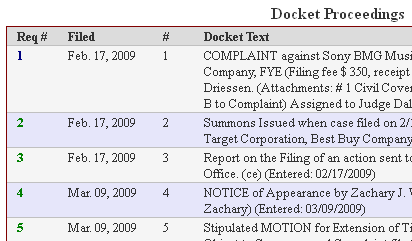 If you click on a green number it will ask you if you want to request the document.  There is information about pricing (basically the cost of the PACER download), but that does not apply to law students.  Student accounts can request documents without charge.  Bloomberg goes out and downloads the document and then emails you when it's ready to be accessed.  (In my experience so far it's only taken a minute or two.)
Not only is it nice to get these documents for free, but the docket search interface is much nicer than that found on PACER.  Bloomberg Law also has some state court docket information as well.