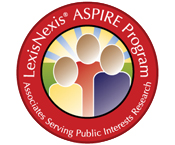 LexisNexis has recently announced its new Associates Serving Public Interests Research Program that supports 2009 graduates pursuing public interest work. 2009 graduates can sign up for free access to LexisNexis if they fall into one of the following categories:
Deferred fall associates pursuing public interest work during their deferral periods,
2009 graduates who elect to pursue public interest work while searching for law firm employment, and
Those 2009 graduates who pursue public interest work as a continuing profession.
More information and registration information can be found here.