Courts enjoined or vacated many regulations enacted by the Trump administration. However, those rules still show up in the Code of Federal Regulations (CFR) despite not being in effect. Even a good researcher who updates their CFR research using the List of CFR Parts Affected and the Federal Register will not identify these changes because they were made by courts and not agencies through the rulemaking process. How can we identify which CFR regulations are in force?
AILALink, an excellent tool for immigration research that BYU Law subscribes to, recently added a feature to its version of the CFR to help researchers identify these "frozen" regulations. You will see a dashed red border surrounding regulations that have been paused or vacated: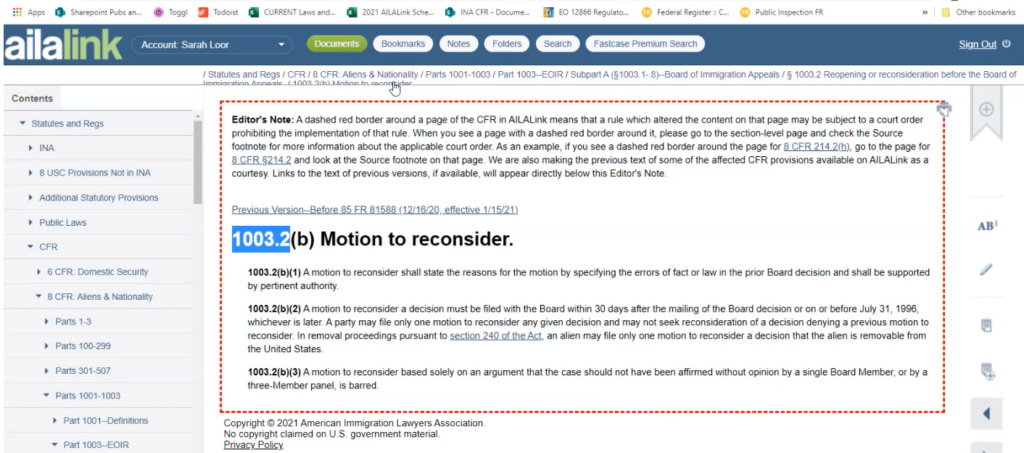 You need to dig deeper to identify which subsections specifically are affected. View AILA's short video showing how to do this. The instructions in this blog post use screenshots from AILA's video.
Go up one level in the regulation to the section level from the subsection level using the breadcrumb trail at the top of the page. At this level, you can see the footnotes. If you don't see the footnotes, click on the footnote icon in the upper right next to the print icon:

The Editor's Note at the bottom of the page shows which regulation was affected with a citation to the Federal Register (FR) and the case. Look for that Federal Register citation in the source note. The source note lists regulations from the FR and the CFR subsections that regulation affected. Locate the regulation affected by the court ruling in the list and see if it affects any subsections you are using in your research.
Click into the subsection. For most affected subsections, AILA provides a link to the older version of the CFR, which will be the version currently in affect. Sarah Loor in the AILA video recommends using a tool like Text Compare to view the changes between the two versions. A tool like that is helpful mostly when the changes are subtle.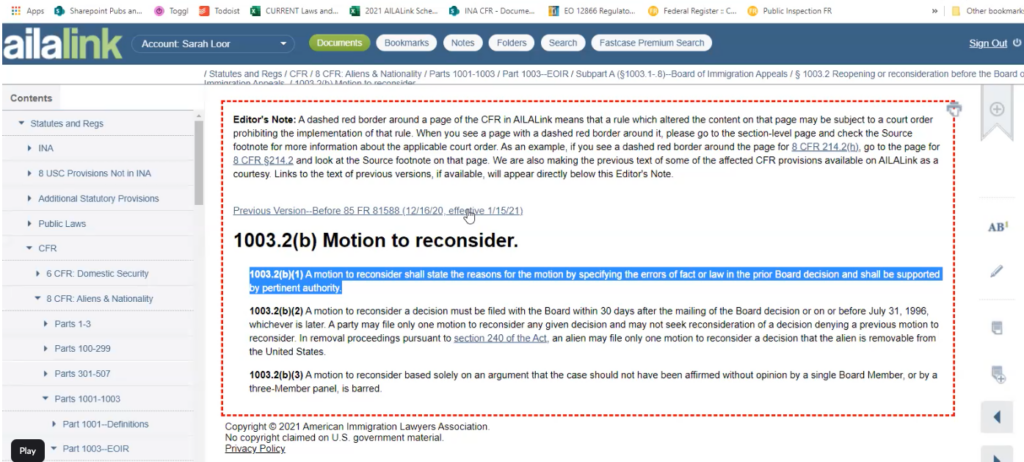 Unfortunately, AILALink does not provide full coverage of the CFR. It covers all of Title 8 (Aliens & Nationality) and portions of the following additional CFR titles:
Title 6: Domestic Security
Title 19: Customs Duties
Title 20: Employees' Benefits
Title 22: Foreign Relations
Title 28: Judicial Administration
Title 29: Labor
Title 42: Public Health
Title 45: Public Welfare
AILA also provides a helpful web page Tracking Notable Executive Branch Action During the Trump Administration. AILA is the American Immigration Lawyers Association.